Ear of Celestials PC version is available now, you can download it now: https://www.gtarcade.com/micro/download/era-of-celestials

* Play Era of Celestials on GTarcade Desktop now and claim the Redeem Code at the end of this Guide.
1. How can I play Era of Celestials on PC?

Click INSTALL in the detailed game page to start downloading the game.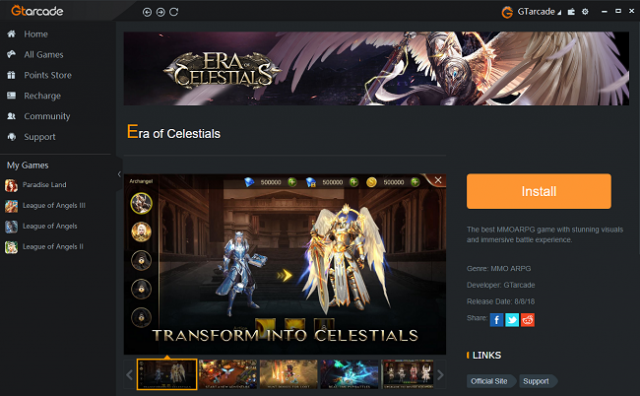 
After downloading and installing, the icon will become PLAY NOW and there will be a pop-up that reminds you to play.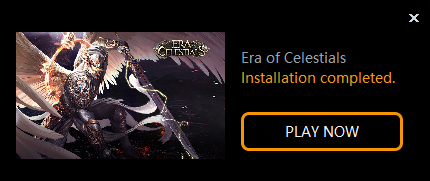 
Click PLAY NOW to open a new window starting the engine which makes it possible to play mobile games on your PC.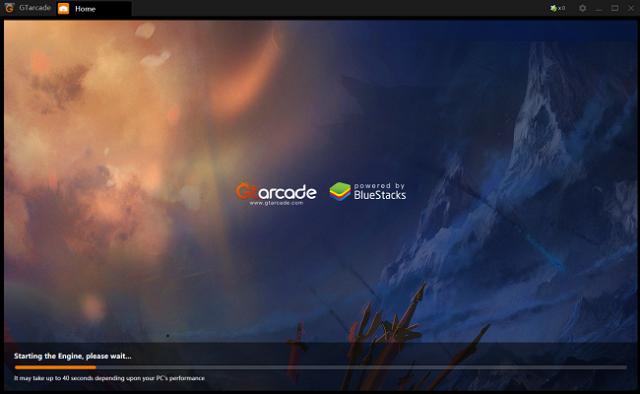 
Click the game icon and enter the game.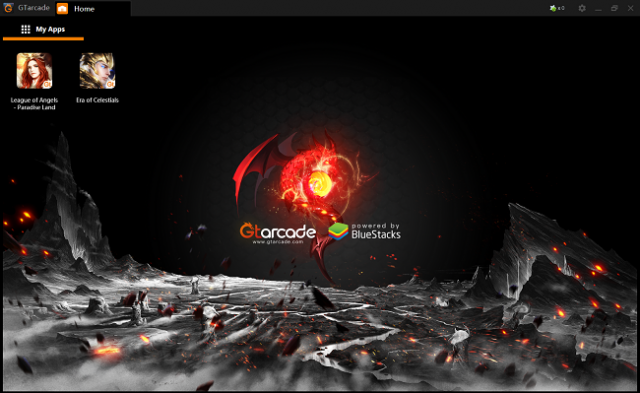 When you enter the game on GTarcade Desktop for the first time, you will meet the following prompt boxes for Era of Celestials is a mobile game. Please click Allow to continue. This process will be optimized in the future for a better experience.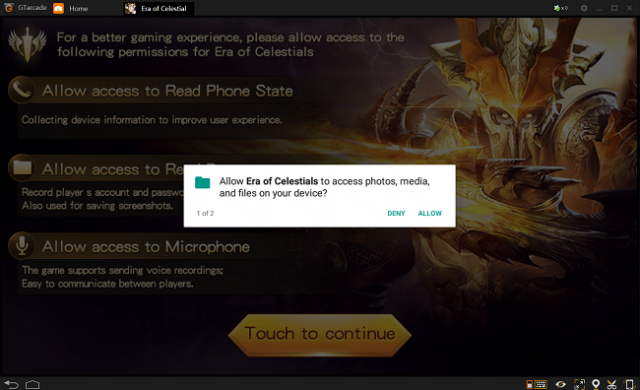 
Login to the game with GTarcade account or the account you used before.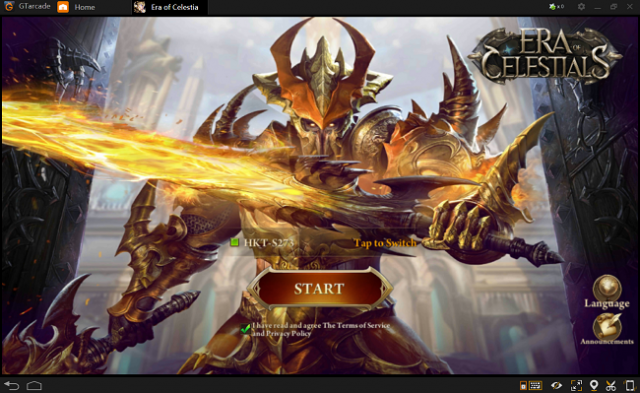 3. What should I do if Installing process gets stuck?
You can restart GTarcade desktop and continue the process.
4. If I have played Era of Celestials before on my phone, can I login to the account and continue to play?
Yes. You must login to the same account and click Change Server to choose the server you played in before.
5. Can I use keyboard and mouse to play the game?
Yes. Keyboard control is available for this game. You can click the keyboard button on tool bar at the bottom to launch key mapping tool. You may assign different controls according to the functions within the game play.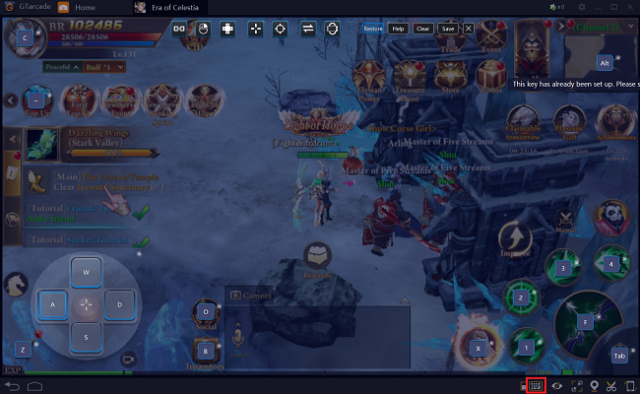 6. Can I recharge Era of Celestials on GTarcade desktop?
Yes. When you click Top Up, it will go to the recharge page of GTarcade Desktop.
7. What Can I do with G points earned by playing Era of Celestials on GTarcade desktop?
G Point is an exclusive currency launched by the GTarcade Desktop. You can exchange for resources or gift packs of our games in the Points Store (Era of Celestials Points Store will be live soon).
Playing games for an hour can claim 20 points. Daily max is 40 Points.
8. How to upgrade Era of Celestials?
It checks update every time you open the game and upgrades automatically.
9. How can I configure my antivirus software to improve game performance?
Some antivirus features can interfere and cause serious performance degradation. We suggest you disable real-time scanning/auto-protect temporarily to help speed up the game dramatically.
10. What if the installation fails?
Method 1.
Step 1. Find Era of Celestials on the left side under My Games, move your mouse cursor to the close button and click "x";
Step 2. Confirm the pop-up by clicking "REMOVE";
Step 3. Enter the detailed page of Era of Celestials from ALL GAMES on the left side. Click "INSTALL" to re-try.
Note: if you've made many attempts and still fails, please open the control panel, find GTarcade icon, select the program whose publisher is Bluestacks Systems, uninstall, and re-try from steps 1.


Method 2.
Step 1. Go to C:\Users\YOUR USERNAME\AppData\Local\Gtarcade\app,
Step 2. Find a file named bs_repair and double-click to run it.

Download GTarcade Desktop right now:

We hope you enjoy using the mobile game on GTarcade desktop. If you have any further questions, please go to Settings > Report A Problem to report your question. Thank you very much.
To rewards players playing Ear of Celestials on GTarcade Desktop, we provide a Redeem Code for you.
Redeem Code: TryGTarcadeDesktop
Expiry Date: 26th Nov. 2019
Go to Bonus>Other Rewards>Redeem
We hope you enjoy playing the mobile game on GTarcade desktop. If you have any further questions, please go to Settings > Report A Problem to report your question. Thank you very much.

Related Reading:
How to claim the Download Rewards?
How do I enable Virtualization Technology to make my game run faster on GTarcade Desktop?